Oct 8, 2020
by Jason Gauruder
Categories: Acupuncture , Chinese Medicine , Educational , Information
I am often asked how I got into Chinese Medicine as a profession. The short answer is a series of accidents that aligned with my academic interests. The long answer is twenty years of navigating what I really wanted to do with my time. I always knew I wanted to help my fellow humans, and my fascination with the world at large eventually led me to medicine, however, how I got there was not as uniform as taking a career test.
I do not exactly remember when, but at some point, in my childhood I remember catching glimpses of Chinese characters and thinking they were the most beautiful things I had ever seen. I was mystified that a whole group of people used art as language. I was lucky to have grown up in Novi, where due to its large Japanese population our public-school system offered it as a foreign language.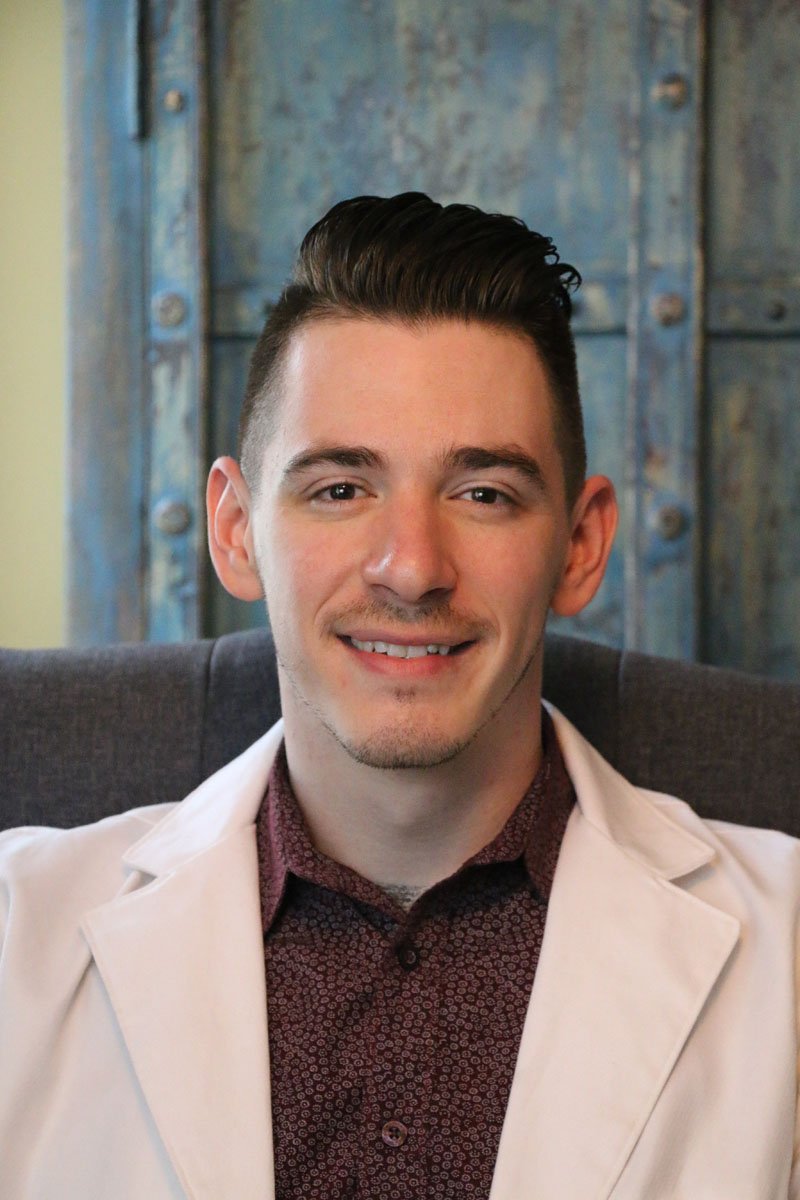 That led me to pursue Japanese and political science in my first year at Michigan State. I became even more engrossed when I met a professor whose specialty was Chinese studies and influenced me to add Mandarin to my classwork. However, despite my keen interest in working for the state department someday, the process rarely puts you where you want to work. Since I had no interest in being an interpreter, the most straight forward path to hands on helping was medicine.
I was particularly interested in surgical medicine, but was weary to the exceptionally long commitment, especially when my own personal experience with western medicine had been very lackluster. I never felt any of my complaints growing up were ever remedied, I certainly never wanted to have surgery done to me, and over prescription of antibiotics had made my health worse throughout my teen years.
Clarity came while I was studying in Japan. An internship opened at Shiga University Hospital in Kusatsu and I was its only participant to sign up. I saw every part of the modern Japanese hospital; the ICU, outpatient services, and lectures on healthcare/how their system works in Japan. I even was able to spend two days in the OR viewing many surgeries including a heart bypass. It is something else to stand over a beating heart.
I learned Japan has the longest life expectancy in the world, and their aged population is very mobile. Walking to the train station and other public transit is a requirement. Healthy eating is a cultural practice embedded in Japanese cuisine. Walking into the hospital's pharmacy, literally half the space is dedicated to granulated Chinese herbal medicines like those in my clinic.
The Japanese healthcare system has approved and fully covers the cost of certain herbal formulas. Patients will take their required pharmaceuticals while in hospital but demand an herbal alternative once discharged. In stark contrast to the United States, the patients drive the healthcare system, and the pharmaceutical companies provide the herbs to ensure quality and to maintain a share of the market.
Although no medical system is perfect, it was a shock to see such a successful one utilizing natural medicines as a key part of its high success rate. My capstone for my Japanese degree was a comparative analysis on Japan's healthcare system vs. the US, and my capstone for my Chinese degree was on the first Chinese settlers on the United States' west coast and the herbal medicine they brought with them that was responsible for fighting off several epidemics successfully. (I will be doing a blog on this subject in the near future!)
After meeting an acupuncturist who told me to look at the west coast schools for the best in the US I ended up choosing the Oregon College of Oriental Medicine in Portland, Oregon as it consistently ranked number one in the US.
It really was a wonderful experience. Albeit stressful, the curriculum was thorough for laying the foundations of Chinese Medicine and, after working with many in the field since graduation, can proudly say it produces some of the most competent clinicians in practice. It also allowed us to have a residency at the Nanjing University of Chinese Medicine and its hospital system. There I was able to work under physicians who utilize Chinese Medicine as the primary care for China's over one billion residents.
Acupuncture, massage, visceral manipulation, cupping, and moxibustion are all used for in-patient and out-patient procedures in the hospital. I was able to work alongside a true Master of Medicine, Dr. "Flying Needle" Wang, who had over 50 years of experience in CM! He looked incredible for his age and was a very jovial man that was asked by the government to come back and work part time so physicians and students from around China and the world could learn his techniques. His nick name "flying needle" came from his ability to insert an acupuncture needle with incredible speed and precision.
This requires noting that the needles used in China are like railroad spikes compared to the hair-like silicone coated needles from Korea and Japan we use here in the US. He also was a master herbalist that for two days a week would have a line wrapping throughout the hospital to see him.
I also was able to spend time in the out-patient gastroenterology and cardiology departments to see how everyday complaints were solved with herbal medicine alone. Although western medicine doctors exist in China, the Chinese Medicine doctors also can order blood tests, x-rays, endoscopy, etc. and can treat with herbal medicine and refer to a western doctor if needed. It truly was the most integrative system I have seen.
During my last months at OCOM I was introduced to the work of Dr. Jimmy Chang and his work with pulse diagnoses. Strange enough, although pulse diagnosis was the pinnacle of diagnosis throughout imperial China its practice seemed to have been lost. Even at OCOM it was a technique that was mentioned but it became obvious that no one really knew how to utilize it. I will do a blog on this subject in the future; however, it is worth noting that by chance Dr. Chang left Taiwan and wrote a book on the practice. During my time in China I was reading his work and trying to learn pulse diagnosis with the huge number of patients I now had access to.
However, my work really progressed when I left China and committed to the Acupuncture Relief Project. A year-round free clinic in rural Nepal that serves anyone that can get to it by road or foot. Our team of seven would daily see over a hundred patients treating the ailments of a country with no centralized government, healthcare system, or in many cases access to any medical treatment. Using acupuncture, herbal medicine, and the occasional pharmaceutical from the neighboring WHO outpost, we were the first physician a patient had seen or were continuing the work of the volunteer acupuncturists before us.
We would walk to the clinic that had one working lightbulb and would start our work with the first wave of patients that came with the first bus drop off of the day. Many would walk for an hour or more by foot down the mountain side to come to us throughout the day. After lunch we would attend to the second bus load. Many patients were farmers who suffered from arthritis, cold exposure, and falls while working.
The high rice and lentil diet also meant a proliferation of high blood sugar and hypertension. Furthermore, it was my first experience dealing with parasites and amoebic infection leading to digestive ailments as water treatment and hand hygiene is not as prevalent as wealthier countries. With having no knowledge of Nepal, its language, or history prior to arriving in the country it was one of the most wonderful experiences of my life living in a little village in the Himalayas.
I finished my trip throughout the Pacific region by staying in Australia with some of my fellow ARP workmates and seeing life in Melbourne and Sydney. Australia too has a system where the healthcare system that pays for acupuncture and chiropractic. It was difficult to leave a place where people value holidays and joyful experience over work related worth. From there I would stay in Japan where I would experience Japanese acupuncture at the Kuretake Institute before returning to the US.
I ultimately returned to Michigan because of job offers at Henry Ford and Beaumont Hospital systems. It allowed me to see how acupuncture was being utilized here in the Midwest and gave me a basis for how and why I should open a private practice. Having a more stable income allowed me to continuingly work with Robert Doane who runs one of the largest and most successful Chinese Medicine clinics in the US. Located outside of Seattle, he and his residents see over a hundred patients six days a week.
A student of Dr. Chang and famous acupuncturist Dr. Richard Tan, Bob Doane perfected both of their techniques and opened his own clinic. From him I was able to complete my training in distal style acupuncture and pulse diagnosis. His specialty in cardiology was impressive to see day in and day out, with considerable collection of patients who had their bypass or stint surgeries cancelled due to his intervention with Chinese herbs.
Although my intention was to bring these skills into the hospital systems and change how they operate, it was obvious I was trying to help a system designed to only profit off the wellness trend and ignore the actual health of its patients (Crain's Detroit and Deadline Detroit have many articles that cover these topics deeper than I could possibly care to), so in my last few months I decided to open my own practice and bring the best of Chinese Medicine to Michigan.
In 2018 Garuda Health became a reality with the help of my partner, Charles. I would not be able to focus the attention I can on my patients without his daily management of the clinic and his genuine care for those we are able to help.
During my time abroad my Hungarian last name, Gauruder (guh-roo-der), was always pronounced Garuda. It also turns out that a mythical creature by the same name was everywhere I went during my journey – from the Buddhist temples of Japan, and the shrine in the village in Nepal, to the mosaics during a vacation in Thailand. It seemed fitting that such a powerful creature that had watched over me during my time away from home would return with me and be the emblem of my clinic.
With Michigan's chronic disease rates skyrocketing and little options here in holistic medicine it has been challenging promoting a new medicine for people but has always been extremely rewarding. Every week that goes by I still am learning new things or finding how old ways can be applied to today's problems. After 8 years practicing this medicine, I could not feel more elated that it is where I ended up.
I truly feel Chinese Medicine is a completely comprehensive medicine. Western Medicine has the glamour of trauma surgery that is the stuff of Hollywood drama (Greys Anatomy has been on for how many seasons now?) but Chinese medicine has been the longevity medicine that has endured over 2000 years of human changes and always adapted and improved with the times. Having not grown up with herbs or even had acupuncture until I went to school for it, it is an honor to be able to bring its positive influence back to where I call home.
In health,
Jason